Open to all; rent our 1911 Club Hall for YOUR next event!
We have a great site
*
for family parties,
fundraisers, school events and more!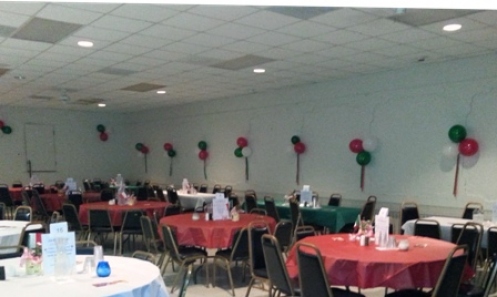 PLEASE NOTE!

The 1911 Club Hall and Bar are open under current COVID-19
regulations regarding social distancings and PPE.

If you wish to submit a reservation request, please
follow the steps below.

ALL RESERVATION REQUESTS WILL BE PLACED ON
THE CALENDAR IN AN INQUIRY (I) STATUS.

PLEASE CLICK HERE IF YOU WOULD LIKE CLARIFICATION
FROM THE 1911 CLUB RENTAL COORDINATOR.
Click here to view our current
calendar of events

Click here to submit an inquiry
or place a rental reservation
request for our hall

537 South York Street
Elmhurst, IL
(near corner of York and Valette;
municipal parking lot in rear)
If you have any questions, please call
our reservation hot line:


630 607-0155!
*

Our location features free parking and is handicap accessible with no steps or ramps to gain entry.
*

Our banquet room is approximately 45 ft by 60 ft and can comfortably seat 200 people with a variety of table configurations.

To complement our banquet room, we have an adjoining bar area with full liquor service and cable TV.

Rental Rates* (Note all rentals are
for hall only with optional access to bar. Bar is always open to 1911 Club members).
Hall with Bar Access: includes access from front York Street door and rear parking lot door. Rental Rates with Bar Access include certified professional bartenders.
> Monday-Thursday evening: $375

> Friday Evening
$700 Rental Fee

$500 Bar Minimum
> Saturday Evening
$1,200 Rental Fee

$500 Bar Minimum
> Sunday Evening
$1,100 Rental Fee

$500 Bar Minimum
Hall without Bar Access:
Hall access through rear Parking Lot door only. NO ACCESS THROUGH THE FRONT DOOR OR TO THE BAR AREA.
Friday: $700

Saturday: $1,200

Sunday: $1,100
*
(as of September 10, 2022 (subject to change without notice)
Deposit Information:

To hold your date, a non-refundable $100 deposit required within 14 days of reservation request.

50% of of remaining event feel due at time of contract execution.
Remainder of TOTAL EVENT FEE due 30 days prior to event.
Facility Information

Due to State Health Department rules, cooking in the kitchen is not available. Violation will result in additional cleaning fees being charged to required credit card on file.

Due to State Liquor License laws,

no liquids of any kind are permitted to be brought into the hall or bar.

All beverages (alcoholic and non-alcoholic) must be purchased at the bar and consumed in the Hall or bar.

Drinking in the Municipal Parking Lot is PROHIBITED by the City of Elmhurst; violators subject to charges and fines. Elmhurst Police Department regularly patrols this area and will be called if there is any evidence of such activity during any event.

Weekend rentals must conclude by 11 PM.

Max

imum rental is for 4 hours or less.

Renters are allowed to bring in D.J.'s, bands, clowns, etc.